Discover more from Stakin Proof-of-Stake Roundup
Monthly newsletter about the latest developments in Web3, Proof-of-Stake, blockchain, and digital assets. By Stakin.
Over 6,000 subscribers
Stakin Bi-Weekly Newsletter Vol. 9
Hey Readers👩‍💻, 
We love to see the many different projects, networks, and DApps being brought to the Blockchain Ecosystem every week. That's why we're happy to announce the subjects of our new newsletter:
ICON Foundation Revision 9 Proposal

Stakin Applies For ICON Grant

Tour de Sol Stage 7

Solflare Wallet for Solana

Stakin part of Skale Ecosystem!

Binance Chain Stake Wars

Polkadot Denomination Day

Stafi Stake Drop

Tezos Delphi Review
🧑‍🚀 ICON Foundation Revision 9 Proposal
As usual, the ICON Ecosystem is booming with new implementations and ideas. This month, the Revision 9 Proposal was submitted to active new features. This Revision 9 is already included in Loopchain 2.6.0, ICON Service 1.7.3, and Reward calculator 1.2.0. The purpose of the proposal is to enhance the governance experience of the ICON Network. The new update includes a Private Key Dualization for P-Reps, a Multiple Unstaking Requests function, bug fixes, and more.
🚀 Stakin Applies For ICON Grant!
In other ICON news, we're excited to announce that we've applied for a grant from the ICON Foundation for our $ICX Staking Lossless Lottery!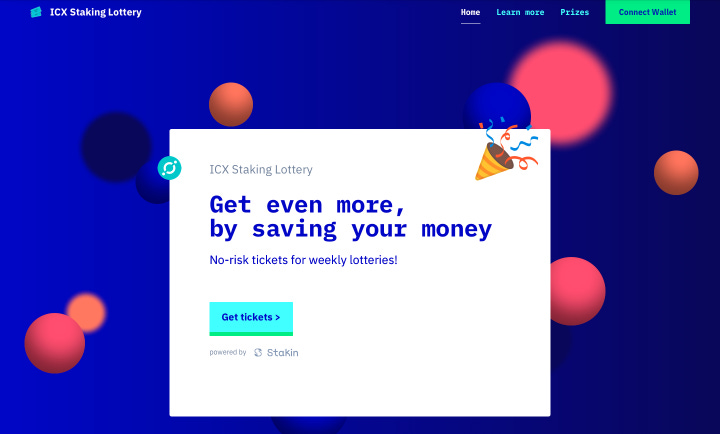 As most of you know, we have been working on the first staking lossless lottery since April 2020. More specifically, we received 1 million ICX delegation from Velic Financial for three months to kickstart this project. The goal of this grant application is to finance the latest developments and testing of the ICX risk-free lottery and the marketing activities around the launch scheduled for September. We estimate that we will need three more months to complete the latest developments and initiate a successful launch.
✅ You can check out the application here.
🏎 Tour De Sol Stage 7
After the first five successful stages, there is still a lot of work to be done and a lot to figure out. Stage 7 will last throughout August and starts on the 17th. During this stage, the focus will be on Smart Contracts and Optimistic Confirmation, and malicious behaviors will be incentivized. Solana invites hackers to focus on cross-program invocation attacks and optimistic confirmation attacks. For all the information about stage 7 and future stages, click here.
💫 Solflare Wallet For Solana
In other Solana news, Dokia Capital introduces the Solflare wallet. And Stakin is one of the validators that is included! The Solflare wallet is the first-ever digital wallet created explicitly for the Solana Network. Enabling you to send, receive, and stake SOL. The staking process used to require the use of a command-line interface, but with SolFlare, it is a natural and flowing experience that makes it easier for anyone to do so.
The wallet has an integration option with the Ledger Nano S hardware wallet; however, it is working on adding multiple other hardware and CLI wallets in the future. Check our staking guide with Keystore here.
The Nano Ledger staking guide will be out soon!
🤩 Stakin part of Skale ecosystem!
This month, Stakin has become an official part of the Skale Network Ecosystem. We're delighted to have become a validator for this exciting new network.
As Ethereum is running at full capacity with an ecosystem of Dapps and products more active than ever, the need for layer two scaling solutions has never been more critical. Stakin is proud to contribute to making Ethereum more performant and scalable through our support for the Skale network.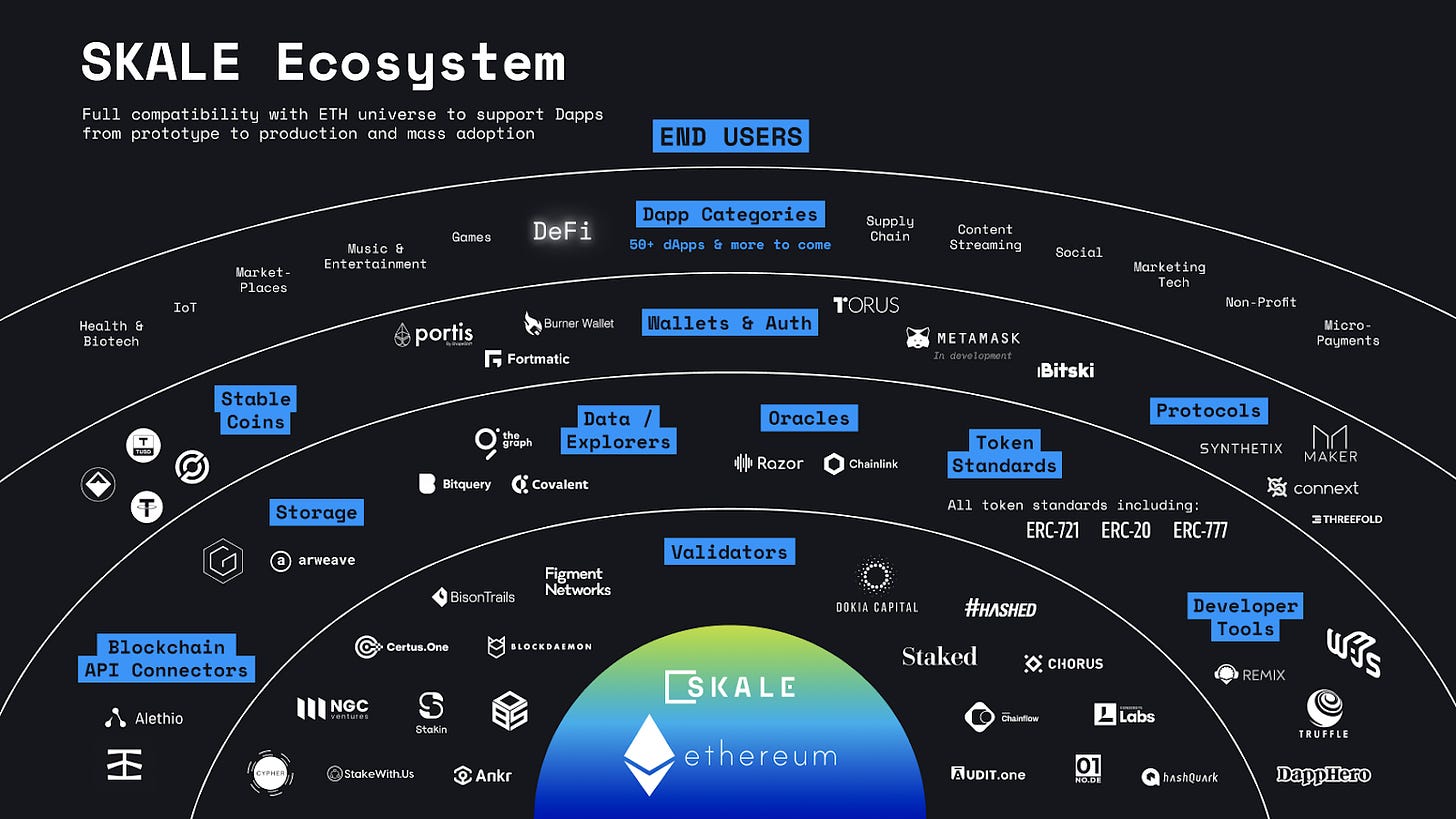 ⛓Binance Chain Stake Wars
More exciting news came from Binance last week. In preparation for the upcoming BNB staking launch, Binance Chain will be sponsoring the Stake Wars with 3,000 BNB in prizes and as an opportunity for users and the broader Binance Chain community to practice cross-chain communication between Binance Chain and Binance Smart Chain (BSC).
The Stake Wars will last from 2020/08/17 08:00 AM to 2020/08/27 08:00 AM (UTC) and is designed to test the Testnet for further issues. We're curious to see the results!
🟣 Polkadot Denomination Day
Polkadot held a referendum to redenominate DOTs to 1:10, 1:100, or 1:1000 with 86% of 1:100. From 43,200 blocks after DOT tokens become transferable, or approx. Seventy-two hours later, DOTs have been denominated at 1:100. Interestingly, the reason to choose 1:100 was for many stakeholders that it would result in a much more ergonomic DOT value.
Given that the only named denomination which is lower than DOT is the Planck (and which is useless for any practical matters), these seem reasonable to take a somewhat finer main denomination.
Polkadot's Denomination Day will be the 21st August, with it happening in Europe's early afternoon, China's evening, and America's morning. It will be at block #1,248,328.
Stafi StakingDrop
The Stafi Protocol is built to empower the liquidity of staking assets such as Cosmos, Tezos, and more, while also enhancing staking rates and making Proof-of-Stake networks safer. To encourage the use of Stafi, the network has rolled out StakingDrop.
In StakingDrop, staking is used as locking. Staking tokens should be locked on their original chain, thus losing their liquidity. Therefore, despite StakingDrop requiring a more extended locking period when users are not allowed to unstake. It is offset by the extra FIS rewards to those users.
Interestingly, only a few days after the StakingDrop campaign went live, just four coins, $ATOM, $XTZ, $DOT, and $KSM attracted over 100M USD worth of assets "bonded" for the StakingDrop.
To learn more about the technical details for the StakingDrop, click here.
🪐 Tezos Delphi Review
Blockwatch Data have reviewed the Tezos Delphi v007 RC1, and it seems as though things are shaping up. The insights from reviewing the new Tezos protocol proposal 007 are exciting. Although Blockwatch states that there is still room for improvement, they also mention that the amount and depth of changes are considerable. The baker subsystem is completely rebuilt internally, with Sapling an entirely new subsystem added, and the voting subsystem is extended. So far, the reviews of the proposal are very positive. Read the whole review here.
Did we miss any Proof-of-Stake Blockchain news? Tell us!
---
DISCLAIMER: This is not financial advice. Staking, delegation, and cryptocurrencies involve a high degree of risk, and there is always the possibility of loss, including the loss of all staked digital assets. Additionally, delegators are at risk of slashing in case of security or liveness faults on some protocols. We advise you to do your due diligence before choosing a validator.